Photo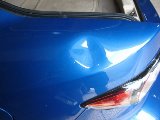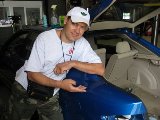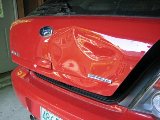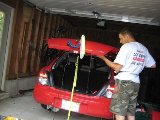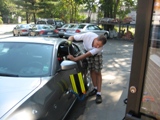 TESTIMONIALS
Hi Arthur!
Thank you so much for your prompt, efficient and impeccable service!
You were able to completely repair a very significant dent in a very hard to get to area for a price which was less than a third of what I was quoted by the body shop! In less than 6 hours of contacting you I had a completely repaired bumper!

Thanks again for your assistance.
I'll forward you before and after (need to wait until its light out) photos in case you want to use them for proof of your great work!
Kristin Wall (11/24/2012) Brimfield, Ma
 THANK YOU, THANK YOU, THANK YOU

When my 2010 VW Jetta was pelted with golf ball sized hail leaving 250+ pings and dents, I was devastated.  We don't get hail in these parts.  I had no idea how it could be fixed.  I thought for sure the hood and trunk would have to be replaced.  When told my car was ready for pick-up, I was feeling really anxious not knowing what to expect.  I can honestly say that I was almost speechless when I saw my car.  The work that was done by Arthur was AMAZING, and to hear that nothing had to be replaced or painted was unbelievable.  I highly recommend Boston Dent Pro.  The work that was done on my car was PHENOMENAL.  Thank you again.

Lisa Rogers
North Walpole, NH (06/30/2012)
So here I am getting 4 new tires for my beloved 2007 Toyota Highlander at a local repair shop on Route 9 in Wellesley. After the tires were installed, as the car was being driven toward me I noticed that the left front fender was all pushed in! Exasperated and in horror I confronted the owner, and he said that the dent had been there all along and they had nothing to do with it...yeh right. He handed me a card from a local auto-body shop and said they could fix it. Not on your life. The paint was original and in perfect shape. In a frantic frame of mind, I hopped on the internet and searched for Paintless Dent Repair places. I read great reviews of Arthur at Boston Dent Pro. I called him immediately, and he responded right away. I emailed him a photo and he called me back within 30 minutes with a quote. He said the dent was pretty bad and he felt he could only get it back to 95% perfection. The quote was $350 and to be honest the dent in my car was so horrific I was willing to pay anything. Incredibly, Arthur was able to come to my house that afternoon (he needs a garage to work in to control the lighting and shadows). After physically inspecting the damage, he revised his estimate down to $250. How is that for honesty! For the next 45 minutes Arthur worked his magic, like an artist creating a fine sculpture. I was incredibly impressed with the result. I would say the result was better than the 95 percent perfect that he had quoted me..... it was more like 98 percent perfect. No one would be able to detect the repair except for me in certain light. I was very happy to pay Arthur his fee and get on with my life. For expertise I give Arthur a 10, honesty 10, cleanliness 10, professionalism 10, and price 10. Arthur does all the repairs himself so even though you are calling a company, you will get the master every time!
Dr. Jeffrey Mason

 

Needham,MA (01/03/2012)
I just want to start off by saying that, I have a 15 day old Subaru Impreza which because of Boston street parking got a dent on the left front fender (where the car detail lining is). I drove about an hour and a half to get to Arthur and it was worth it. It took him a little over an hour and he delivered more than he had promised. The dent is more than 95% gone and the car looks like it should NEW. And he is one of the nicest guys you will ever meet, kind, friendly and he delivers more than he promises. I hope nobody gets a dent, but if you do Arthur is the guy to call. Thank you again Arthur
Gautham Marigowda, Cambtidge, Ma  04/06/2011
I slid into a snow bank with my GMC Pickup truck and dented the side of it and was heading to the body shop to get it fixed when my cousin told me about Boston Dent Pro, I called Arturas and he came to my house and fixed the dent yesterday ~ can't even tell there was damage there and he even waxed that side of the truck…Save yourself some cash and call Arturas  if you have any problems caused by dents.
 Bill Moore, M.A. | Director Project New Hope Massachusetts Disabled Air Force Veterans  www.projectnewhopema.org 
P.O. Box 91 | Leicester | Massachusetts 01524   (03/19/2011)
  I went to three auto body establishments to get a verbal price to repair a tiny ding in my car.  They all wanted to remove the fender and repaint the entire front fender. I only had a small 1/2" ding at the high point seam on my 2011 black Infiniti. Being a black car to me it stood out like a sore thumb. I didn't want the whole fender painted because the car would never be the same and it would also be on my Carfax record. I searched the Internet for  Paintless Dent  Removal and ran into this impressive website. I sent photos of the damage and the same day I received a phone call and a price which I accepted. In no time flat Arthur was at my house and with surgical precision the dent was repaired beyond my expectations. I am so happy and have to pat myself on the back for finding the absolute best there is in the business. I would recommend him to everyone. Thank you so much!
 James Goodman, Wilbraham, Ma. (03/06/2011)  

Arthur, I am sending this email to thank you again for the wonderful job you did on my car yesterday.  The car door looks as new as the rest of the car.  There is no way anyone could tell that the car door had a very visible dent yesterday morning.  I also appreciated  your punctuality in responding to my email as well as arriving to do the work.
 I will certainly refer you to others.  Also, I submitted a very positive report on Angie's List for your services.
 Have a great Thanksgiving.
 Regards, Steve Wasserman (11/21/2010)
Your work is outstanding.  I am a repeat customer and each time you have worked on my Audi S4 I leave impressed by your artistry.  Your work is extraordinary.  Pricing very fair for the work done.  I love that you are punctual, deliver on your estimates of time and outcome.  I have given your name to family and friends and will never hesitate to call you for any future dings.
Thank you for your great service.  You are a magician!!!
Cathleen M., Lexington, Massachusetts (08/23/2010)
Dear Arthur,
 I can't thank you enough for the flawless repair that you made to the front fender on my 2008 Subaru Outback this past Tuesday.
As you know I am in the decorative art repair business and I personally have very high standards for my own work and expect the same from others when they do work for me.
You have certainly met my expectations and I would not hesitate to recommend you to others needing this type of service.
Not only is your work excellent but your follow up by phone is most welcome and very professional. The drive from New York to your area was absolutely worth it!
I will most definitely use you again should the need arise.
Sincerely, Wesley Reiner
Decorative Art Repair - North Salem, NY 10560
(September/07/2010)
 When my new pickup truck, less than two months old, got a big ding in the door at a parking garage in Boston, my heart sank; my first brand new car and it got damaged by a careless commuter. 
I was reluctant to go to a body shop, knowing that this type of ding would require bondo and a new coat of paint on the whole door; that is until I found Arthur's website online.
I wrote him with a few photos, he called me back in less than an hour and less than 3 hours later he had finished the job, in my driveway.  I am still looking for where the ding was, and I cannot find it.
The man is an artist, make no mistake and takes huge pride in his work.  I can't recommend him and his work enough and have already passed on his information to friends and neighbors.
 Zafer M.  Billerica Ma  (August/11/2010)
 Thank you Boston Dent Pro!  I had just purchased my brand new 2010 Nissan Maxima and in only 3 weeks it was damaged by a shopping cart. The dent to the front fender was rather large and in a critical area.  After the body shop told me my car would need a repair job which would include body filler, sanding and attempting to match the original paint job to the tune of $945.00 I immediately researched another way. That is how I found Arthur.  In less than 24 hours from contact, he traveled to my home and within 1 hour fixed my car to original condition!  His work was flawless and extremely crafted.  I am the owner of a professional Martial Arts academy and have been training and teaching for over 25 years. I was very impressed with the high level of skill to which Arthur displayed in his work. He is, in my opinion, a Black Belt in the art of Paintless Dent Removal!! 
Chris Konelas
Premier Martial Arts
Derry, NH
http://www.northamericanmotoring.com/forums/coupe-talk-2002-2006/177739-got-dings-found-an-awesome-mobile-pdr-guy-servicing-boston-worcester-providence.html
 David (New England Mini Cooper club member)
Thanks Arthur again for coming to the rescue. 

You did it again!  This time, I noticed the 3 inch creased "ding" on my lower rear passenger door first thing in the AM.  By 1 PM you were at my office, and had the dent repaired by 2 PM, saying it was "99%" - which means totally, completely invisible to anyone on close inspection.  I drove home happy again.  Last time was a MUCH bigger job on another car a few years back.  A huge dent on a rear hatch took you a few hours, but was again invisible when you finished the job.  You saved me $1000 insurance deductible.

Thank you for your incredibly fast response, professional approach to customers, and fantastic results.

Paul Bleicher - Newton, Ma
About the advanced PDR training
Thank you for training Arthur ! One year of looking for PDR master in USA and weeks to decide to choose the best : Boston Dent Pro . I came from Europe especially to take Arthur's lessons of PDR  art the time I was spending with him is amazing and I'm personaly happy because I made right choise .  Only one person per  training, real work onreal panels in body shops , car dealers, retail customers. He is not teaching how to just do PDR but he  combine all this business takticks together ,how to get the higher skills of PDR, how to choose the best tools, the best lighting system with all his personal  innovation , how to get in to business of PDR , how to manage a PDR business, how to work with  customers and what the best area to start your business and much more you can learn taken Arthur's training . I'm also be advized by Arthur to "Not byu any tools sets from third partys companies!!!". Only the best , hight reputable companies tools his using and same think recommended to me. So I have made MY PERSONAL tool set. All I expected abou this training, I got from Boston Dent Pro owner Arthur  . Arthur's lessons put me on the right way to start a PDR business abroad .
Thank's Arthur !
Constantin Mereuta

Republic of Moldova,Chisinau
 Hello Arthur,
 Last weekend I missed the opportunity to really thank you, and tell you how much I appreciate all you did for me and the for Mini Cooper club members  on Saturday. My car looks new again.  So, thank you ! And may you and your family have a beautiful Thanksgiving.
 Sincerely,
 Dave Blake  -  Mass Motoring Club
The service was prompt and very professional.  The price was very reasonable.  Most importantly, the results were impressive.  The dents in my BMW 5 class were challenging ones, right on the contour line of the fender.  The dents are completely gone and the car looks as good as new!
  John A. Roush
Senior Vice President, Enviro
I just want you to know how pleased I am with the work you did on my Acura MDX.  When I was in St. Louis,  wife's cousin who is a car painter for a large Ford and Toyota dealer saw the dent and thought it was too deep for your type of repair.  He was wrong?
Thanks again for an excellent job...
Best Regards, Steve
Steven M. Stroum, President
Venmark International     www.venmarkinternational.com
Hello Arthur

Just want to thank you for doing a great job on my wifes 2007 hyundai elantra, you are very skilled at what you do...
Michael Costello - Giant Glass (North Andover, Ma)
Arthur has done an outstanding job helping me with the repair of the hood of my Mercedes ML 350 after an accident involving a bike. For a very reasonable price, Arthur not only repaired the larger dent on the hood but also referred me to a body shop in Webster to fix the other dent which needed to be repainted. Arthur was very professional, telling me upfront that he would not be able to fix the second dent entirely but helped me get a great deal on the paint job. Combined both repairs cost me less than $500, which was way cheaper than any body shop repair in the greater Boston area where others would have advised me to buy a complete new hood.
Thanks again,
Alex, Cambridge, MA
"After having such a bad experience with  Corporate company's technicians, (they working only for numbers) it was nice to do business with a professional Independent company like Boston Dent Pro.
 The repairs to my vehicle were done right and on schedule, I was  treated very well and this was my fourth deal with Independent Boston Dent Pro company operated by the owner Arthur. I returned to you because of the quality work and service you provided me the first time."
   Sincerely,
   Joshua Wieder (Babson College, Wellesley, Ma)
Arthur from own  company exactly right person in this type of business. Always on time, very good energetic person, treating every customer vehicle like his own. His only the one of PDR Expert who I allow to touch my customers cars ! 
I will highly recommended him to every one who looking for quality.

  Jack Vaitkunas
   Jack Wax Detailing - Auburn, Ma  (03/17/2008)
 
My personal experience with Corporate Dent Wizard company me now recalls the nightmare. They only play with the client lack of awareness  in the PDR, and proud as "wizards". This has happened to me when gave to fix the 5" diameter dent on my 2008 Porsche Cayenne hood. When the work was completed, and showed me a car, it seems like to me, okey.But when came back in home, my son Brian looked a car in daylight, and showed me the UGLY LOOKING ONE. The hood was up to see out of tubers that look in red background really disgusting.  The son suggested to me found out Independent dent expert.
Son  told me I should first be consulted with him for advice before choosing  Corporated companies. When we met with Arthur from Boston Dent Pro , he said that the repair work after other company he performs often.   After Arthur's modification decoupled only $ 50, not included to 129% payment to other company.
My suggestion : If you have any type of dent's call for Arthur (508) 410 - 1774
For me it was a good lesson. I suggest to all to apply only to Idependent Dent Expert's. You will get what you expect.

   Mike Coogan
   Newton, Ma
Everything on the website and everything he says is exactly what you'll get.  He is honest and gives cost effective options no one else can provide.  I am amazed at the convenience, speed, and professionalism of my experience with Arthur.  The result was just stunning, and my MB AMG hood and fender looks great.  Thanks Arthur!"

   Always your customer!
   Linksys Management Group
   John Ludly from Boxborough, Ma
   
"I want to thank you for your work done on my Lexus, really  nice job and more than that was your flexibility to work with me on tight schedule, I really mean it and I will always recommend you if someone is in need of this kind of work. I am very pleased with your work, so thanks again and have a good day."
   
   Sincerely , Angela  (508) - 685 - 9565
   Acton, Massachusetts


"I am very happy with the work Arthur done on my car. I have no doubt this is the way to go if you want personalized and professional work on dents and dings. I live in Newton, Ma and he answered my email so quick and by next morning PDR procedure all done. Perfect Job! Highly recommend him!"

   Thanks Arthur!"
   William Pappin - Newton, Ma (01/27/2003)


Dear Arthur,
When I brought my Porshe Cayenne in for a large dent you promised that you would make it 95%. Well it's not 95%. It's 100%! Much better than I expected. I appreciate your attitude and professionalism. Those who I showed it to were equally impressed. You can always use my name as a recommendation any time.

   I wish you and your family the best.
   Thomas Gorman Boston, Mass


"Uhh.. I had huge acorns damage on the hood and roof of my brand new BMW X6. 12 dents on the hood and 7 on the roof.  I am very anal and was skeptical to get it fixed fearing it will never look the same.
  First off I was very impressed by Arthur's professionalism and honesty. His quote was more than reasonable. Had it fixed in 4.5 hour, a lot faster than I expected. And the fix is flawless. Is this really worth it ? Absolutely yes !  I will highly recommend Arthur to all my friends and family.

    Thanks Arthur!"
    Fidelity Financial Group
    Katherine Metro, Worcester, MA (04/09/2001)

Hi Arthur,

I wanted to thank you for doing an unbelievable job !

I just purchased a Audi TT as a present for my wife. The car was in great shape except for 7 dents on the hood and a few minor dents in the left rear quarter panel. I never thought that they could be repaired without extensive body work and repainting. I also thought that I would have to leave the car for an extended period of time.

  Well, I was pleasantly surprised that my fears were dispelled by your fine work. The dents from my Audi TT disappeared before my eyes as if they were never there! I was able to wait while the repairs were done and on my merry way in no time at all. The price was reasonable and I feel that I got the better end of the deal. Your repairs helped to restore the beauty of the car and I'm sure my wife will never know that there was ever any damage. I will be sure to pass on my experience to others who may need the services of Independent Dent Expert. Thank you again Arthur and wish you the best!

   Martin Novak - Photo & Laser Inc. of Hardford

    Putnam, Connecticut  (07/09/1998)